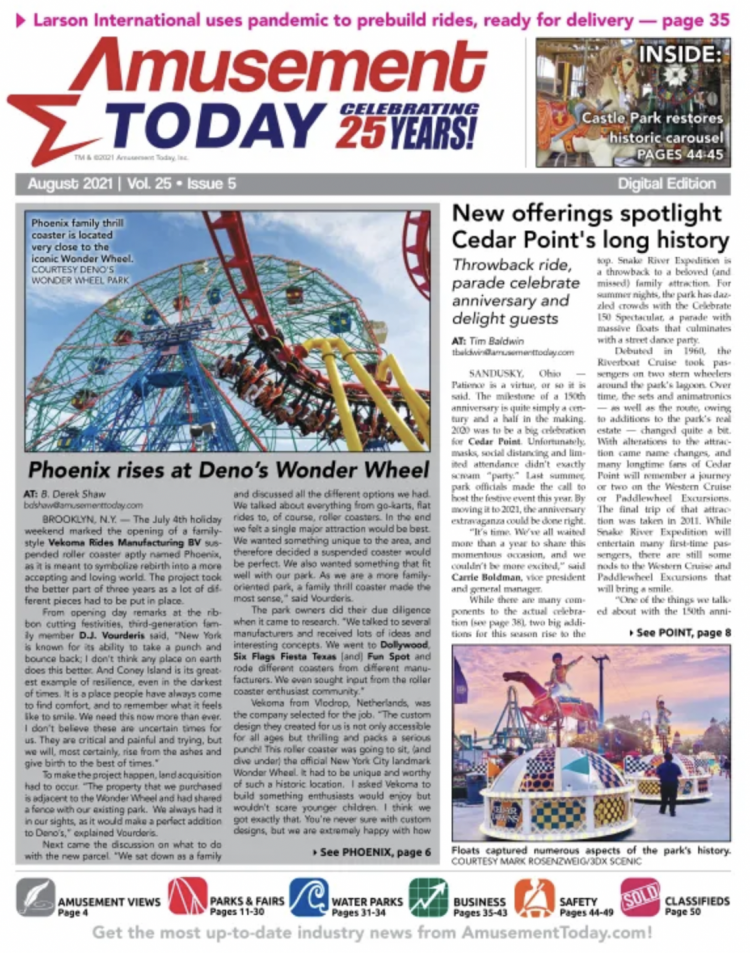 SAFETY AS A CORE VALUE
AUGUST 2021 - As the amusement industry continues to recover from a year like no other, and even though COVID-19 continues to hamper the operations of many amusement industry businesses across the globe, safety remains not only our number one priority but a core value of our industry. What, you may ask, is the difference?
Priorities shift. Depending on the current environment, challenges and even trends businesses are facing, they can, and will, change their priorities to fit the most pressing issues of the moment. Priorities are meant to address the short-term needs of the organization.  Core values, on the other hand, do not change. They stay constant no matter the current climate of the business. Core values can be seen as the very fabric of the organization - they are what form the foundation on which the company's work is performed. For this reason, it is extremely important that safety should be seen as a core value, as well as a top priority, for your organization and for our industry, as a whole.
In our ever-changing world, where technological innovations are continuously being made that push the boundaries beyond what has been done in the past to make amusement attractions more and more exciting, the amusement industry has taken on the responsibility of holding itself accountable for the safety of its guests and employees; for keeping safety as a core value. For decades we have banded together as an industry and put aside differences with our business competitors to make it possible for our best and brightest minds, no matter by whom they are employed, to work together to develop standards and to create best practices that demand that safety remain a core value of our industry. 
The future is bright for the amusement industry. As we make our way through this dark period and are finally seeing the excited, shining and unmasked faces of the guests who have so missed the rides and attractions that have brought their families together for decades to make lasting memories, we must keep our eyes on what's most important: the safety of our guests and employees. Rides that sat dormant for a year or more must be inspected and possibly even re-commissioned. Annual maintenance that was deferred must be performed to the manufacturer's specifications. SOPs must be updated to include new safety and sanitation procedures mandated by health organizations. Operators must be re-trained to ensure new protocols are learned and existing ones are reviewed. Midways, queues, signage, parking lots, walkways, fences, ride perimeters, and all other areas which are accessed regularly by guests and employees must be properly inspected and maintained to ensure their safety.
AIMS International stands ready to assist and to provide education and certification opportunities to everyone working in this great industry who holds safety as a core value in their business. We are continually reviewing, revising, and adding to our curriculum to keep up with and support the core values of our stakeholders. To that end, we are proud to announce that the AIMS International Safety Seminar will be hosted in person in Galveston, TX January 10-14, 2021.  During the seminar, we will be offering a NEW certification program specifically designed for safety and security professionals working in the amusement industry. The new Certified Amusement Safety & Security Associate (CASSA) and the Certified Amusement Safety & Security Professional (CASSP) certifications will be supported by the new Academy of Amusement Risk Management, Safety & Security (AARMSS) which will be hosted at the next AIMS International Safety Seminar. More information will be available on the AIMS website soon, so please stay tuned. To learn more about what AIMS has to offer, please visit aimsintl.org.