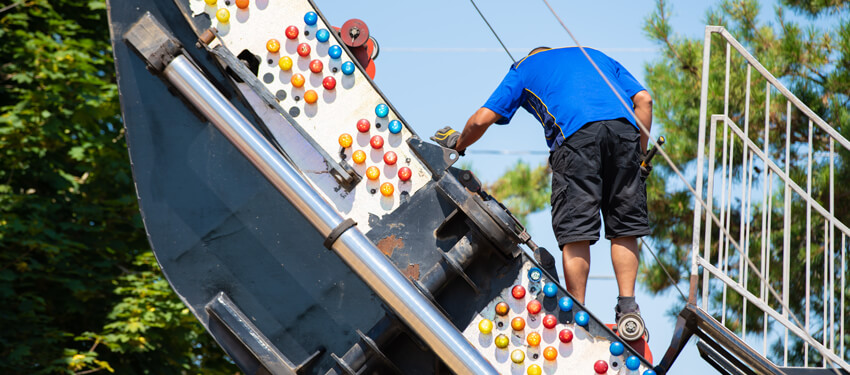 Decades of Experience in Amusement Industry Safety
In February 1994, AIMS International evolved from the American Recreational Equipment Association, founded as an organization "dedicated to continuing safety in the amusement industry."
AIMS International's purpose is to establish communications and foster working relationships using the highest degree of professionalism with other amusement industry trade associations as well as local, state and federal government entities to promote and preserve the prosperity of the amusement industry.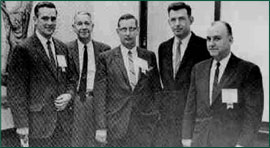 American Recreational Equipment Association 1964-1965 Directors. From left to right: Watson Brey, Allan Herchell Co.; John C. Allen, Philadelphia Toboggan Company; Harold Chance, Chance Mfg.; Lee Sullivan, Eli Bridge Co.; Art Sellner, Sellner Mfg. Co. Inc.
This is accomplished by promoting safety in the amusement industry through the annual AIMS International Safety Seminar; speaking at industry functions; participating in the development of safety standards for the amusement industry; establish working relations with local, state, and federal government entities; establishing cooperative and working relations with other amusement industry trade associations, amusement park owners and operators, concessionaires, equipment manufacturers and suppliers, carnivals, fairs, water parks, family fun centers, adventure parks, and other segments of the amusement, entertainment, leisure, and recreation industry.
AIMS International, Ltd., consists of manufacturers, suppliers, organizations, and individuals that have a deep and abiding interest in supplying products or services to the Amusement Industry.
AIMS International, Ltd. continually serves the amusement industry by monitoring and working on issues that affect manufacturers and suppliers in the amusement industry. We monitor significant developments that affect our members such as: government regulations including ADA, EPA, OSHA, NEC, and CPSC as well as legislation including product liability reform and amusement ride design, manufacturing, and inspection laws. AIMS International participates and provides input to our members for the development of standards including ASTM-F24 and international amusement ride safety standards. The Association consists of qualified American and International entities that are actively engaged in the design, manufacture, production, sales, and service to the amusement, entertainment, leisure, and recreation industry.