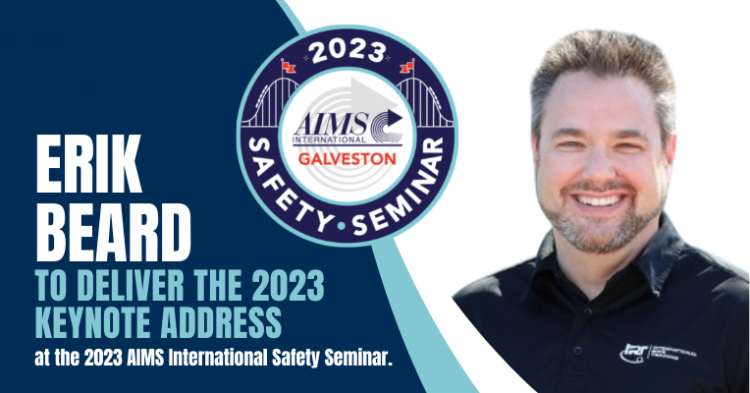 AIMS INTERNATIONAL ANNOUNCES ERIK BEARD TO DELIVER KEYNOTE ADDRESS AT ANNUAL SAFETY SEMINAR
Safety Seminar to be held in Galveston, TX January 8-13, 2023
[Jacksonville, FL] November 22, 2022 – AIMS International, the world leader in amusement safety education, is proud to share that 30-year industry veteran Erik Beard will deliver the keynote address at the 2023 AIMS International Safety Seminar. Beard is the managing member and general counsel of International Ride Training, a consulting firm dedicated exclusively to ride and aquatic operations safety through operator certification, training, and auditing.
Beard began his career in the ride operations department at Cedar Fair Entertainment's Cedar Point and Worlds of Fun in 1992 where he spent six years as Manager of Ride Operations and Park Services.  Beard also worked on the pre-opening operations team at Universal's Islands of Adventure where he had direct responsibility for the development of operating procedures for the Lost Continent and Jurassic Park islands and guided numerous attractions through construction, commissioning, and pre-opening training and testing. 
After ten years in ride operations at the park level, Beard served the industry in a legal capacity for fifteen more. He has represented and advised amusement parks, aquatic facilities, trade associations, and industry suppliers with respect to the Americans With Disabilities Act, amusement ride and aquatic safety matters, drowning investigations, operational best practices, and in amusement industry legislative and regulatory matters before the Connecticut Department of Public Safety and the Kansas Department of Labor. 
Beard is a frequent speaker at amusement industry events and trade shows such as the IAAPA Expo, IAAPA Operators Forum, the World Waterpark Association trade show, and the iROC Safety School, among others.  He serves as Second Vice President of NEAAPA: The Northeast's Entertainment Association, the Board of Directors for the National Association of Amusement Ride Safety Officials, the Government Relations Committees of the International Association of Amusement Parks and Attractions and the World Waterpark Association and is a member of the ASTM F24 Committee and Vice-Chair of the F24.40 Task Group. He also serves on the Advisory Board for the International Board of Credentialing and Continuing Education Services. Beard also independently authored The Legal Roller Coaster, a blog specifically devoted to legal issues affecting the amusement and tourism industries (www.legalrollercoaster.com).
Beard graduated from The Catholic University of America in Washington, D.C. with a Bachelor of Arts in 1995 and obtained his juris doctor, magna cum laude, from George Mason University School of Law in Arlington, Virginia in 2005. He currently resides in Avon, Connecticut.
This year's keynote will be called "You Can't Do It Alone: A Broader Perspective On Safety Success." The address will focus on the importance of interdependency to the success of any amusement safety program. So often, individual team members feel siloed within their departments – focusing only on their tasks without seeing the broader impact on others or the facility as a whole. This creates the opportunity for blind spots when it comes to the overall safety mission or, worse, animosity or conflict between team members with different functions. History from both within our industry and outside it has shown that the highest level of success comes from interdependency across the entire enterprise. Further, this year's keynote will analyze examples of incidents and identify how greater communication, cooperative action, and attention to the global safety mission could have avoided serious consequences and how imperative these same skills are to avoiding future incidents at our facilities.
Returning to Galveston, TX, January 8-13, 2023, attendees will build their own schedule, choosing from over 300 hours of content to best suit their needs and desired outcome. Actionable safety information is carried home to share with colleagues and co-workers. Long-lasting friendships with instructors and peers from around the world lead to an exchange of information and excellence that connects safety professionals across the globe.
2023 registration is now open at aimsintl.org. Consistent with prior years, the CEU certificate will be included in the price. Please note that our primary hotel fills fast, so be sure to book your rooms early.