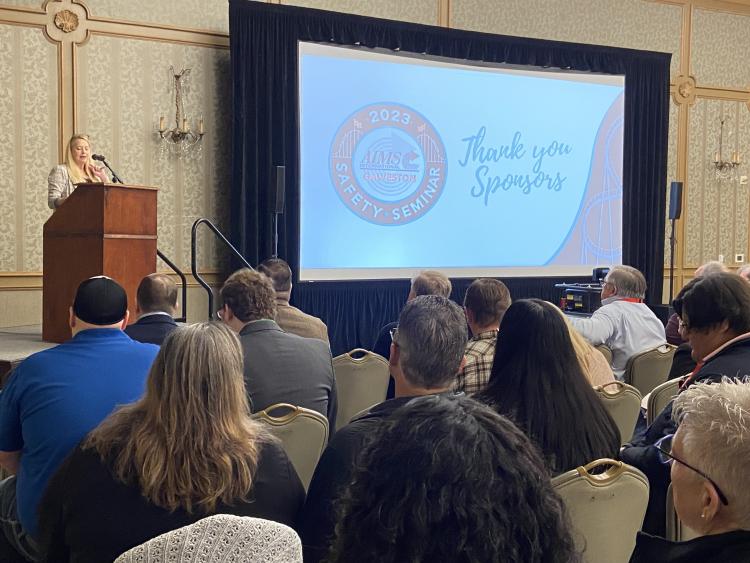 AIMS INTERNATIONAL 2023 SAFETY SEMINAR SHATTERS RECORDS
Annual Event Marks New Milestones and Welcomes New Member to Board of Directors
[Jacksonville, FL] February 15, 2023 — AIMS International, the world leader in amusement safety education, reports record results for its annual safety seminar. The event, which drew participants to Galveston, TX from Jan. 8 to 13, shattered all previous seminars reflecting the industry's unwavering dedication to providing safe entertainment experiences for visitors around the globe.
2023 AIMS International Safety Seminar records include:
Attendees: 687
Instructors: 151
Hours of Education: 400
Education Tracks: 11
Classrooms in Action: 13
Sponsors: 50 (37 onsite, also a record)
Academy of Amusement Risk Management, Safety and Security (AARMSS) Classes: 2
2023 also marked the first AARMSS graduating class. Based on the foundational pillars of safety, security, emergency management and risk management, the two-year AARMSS curriculum educates and equips students with the knowledge and skills needed to effectively manage a comprehensive amusement industry safety program.
Maegan Wallace Appointed to Board of Directors
At the annual member meeting Jan. 10, Maegan Wallace from Maclan Corporation in   St. Petersburg, FL was appointed to the AIMS International Board of Directors. She will replace Franceen Gonzales who is leaving the board after 10 years.
"I'm looking forward to working with the board and staff to drive AIMS into the future. It's imperative that as our world changes, AIMS remains at the forefront of education that reflects emerging trends while upholding our core goals," Wallace said. She also thanked Gonzales for her dedication and service.
"This role has been extremely important to me," Gonzales said. "I'm both grateful for the opportunity to leave a lasting, positive impact on our industry and also confident in the future of AIMS and its leaders," she noted.
AIMS International Looks Ahead to 2024: Orlando
The 2024 AIMS International safety seminar will move from Galveston to the DoubleTree by Hilton Hotel Orlando at SeaWorld Jan. 7 to 12. For those looking to participate, the planning schedule is as follows:
Spring 2023: Open call for presenters
Summer 2023: Open call for sponsors
Labor Day 2023: Early bird registration will begin
AIMS issues a reminder that some certifications will expire March 30, 2023. Those who need continuing education units (CEUs) to renew their certifications can visit aimsintl.org for courses available through their online platform AIMSConnectED.
###
About AIMS International
AIMS International is a non-profit 501(c)(6) association dedicated to improving amusement Industry safety through leadership in education. AIMS International provides training classes and certification for ride inspectors, operations, aquatics, and maintenance personnel through its annual Safety Seminar and at other venues throughout the year. The next AIMS Safety Seminar will be held in Orlando, Florida January 7 to 12, 2024.