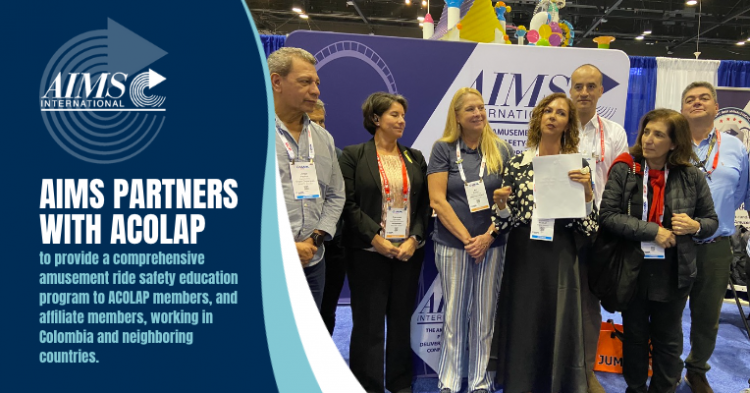 AIMS INTERNATIONAL PARTNERS WITH ACOLAP TO DELIVER SAFETY EDUCATION IN COLOMBIA
Three-Year Deal to Expand Amusement Safety Education into Latin America
[Jacksonville, FL] November 29, 2022 – AIMS International, the world leader in amusement safety education and ACOLAP, Colombian Association of Attractions and Amusement Parks, (Asociación Colombiana de Atracciones y Parques de Diversiones) have signed an agreement to provide a comprehensive amusement ride safety education program to ACOLAP members, and affiliate members, working in Colombia and neighboring countries. 
The three-year deal calls for an amusement safety education program to be delivered annually by amusement industry safety experts entirely in Spanish. This unique hybrid program, will take place in for the first time in February of 2023, and be offered in three segments:
A 40-hour series of on-demand video courses.
A live webinar series giving attendees the chance to interact with subject matter experts during a live review and Q&A session.
A hands-on experience at a local Bogota amusement park, with live demonstrations by subject matter experts which allows ACOLAP attendees to see in-person what they learned in the video courses.
The on-demand video courses will be pre-recorded in Spanish during the January 2023 AIMS International Safety Seminar in Galveston, TX, and made available to ACOLAP attendees via the AIMSconnectED online learning platform.
Attendees may also sit for an in-person AIMS International certification exam, delivered in Spanish, in any one of the following areas: Ride Inspection, Maintenance, Operations or Aquatics.
Angela Dias, ACOLAP Executive Director, said of the landmark agreement, "From ACOLAP we are happy that this project is finally a reality. It represents a great contribution to the safety of amusement parks in Colombia." 
Mary Jane (MJ) Brewer, AIMS International Executive Director, agreed, "The staff and Board of Directors of AIMS International are thrilled to have the opportunity to expand our safety education programming into Latin America. We are grateful to Angela Diaz and the team at ACOLAP for working so hard to make this dream a reality." AIMS is also indebted to Hugo Loyola, Corporate Process Manager at Fantasilandia Park in Santiago Chile, an AIMS Board Member, for coordinating the curriculum and the Latin American instructors who are teaching the educational content. 
The first of the three annual safety education programs is scheduled to take place in February, with the in-person hands-on experience and certification exams planned for the February 24 and 25 in Bogota Colombia.  For more information, please contact info@aimsintl.org.