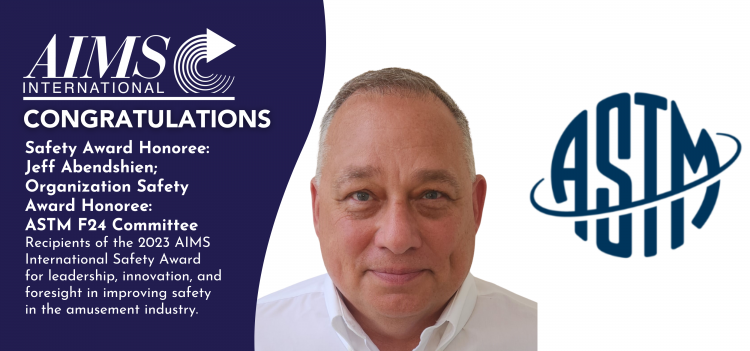 AIMS INTERNATIONAL ANNOUNCES SAFETY AWARD RECIPIENTS
Jeff Abendshien and the ASTM F24 Committee Awarded 2023 Safety Award
[JACKSONVILLE, FL] September 9, 2023 – AIMS International, the unmatched leader in amusement safety education, today, named Jeff Abendshien and the ASTM F24 Committee co-recipients of the 2023 AIMS International Safety Award.
The AIMS International Safety Award is presented annually to the individual or organization that demonstrates leadership, innovation, and foresight in improving safety in the amusement industry. Improvements to safety come in many forms: the design and implementation of new products and technology, the development of safety education programs and training, and through exemplary leadership in influencing others.
Individual Honoree Jeff Abendshien is Vice-President at Recreation Engineering, Inc. the organization started with his business partner Brian King to provide specialized engineering, testing, and inspection services to the amusement industry.
Throughout his 40+ year career, Abendshien has volunteered countless hours advocating safety in the global amusement industry and serves on the board of directors of several industry organizations. He is an active voting member of the ASTM F24 Committee and chairman of the ASTM F24.10 Inspection and Test Methods sub-committee with responsibility for writing and maintaining internationally recognized amusement ride standards.
Abendshien is an active member of the American Society for Non-Destructive Testing, responsible for maintaining the qualification and certification of inspection and testing personnel, author of several textbooks on mechanical design and history, and instructs at numerous amusement industry safety seminars including AIMS, AREA, NAARSO, IAAPA and the ICC Educode symposiums.
"In addition to his work maintaining and improving amusement industry safety, Jeff generously contributes his time to support organizations, including AIMS, ASTM, and NAARSO," said AIMS board member Timo Klaus. "Jeff has been a go-to instructor for multiple classes and is always ready to promote safety in our industry."
For the first time in its history, AIMS International is recognizing the ASTM F24 Committee and all of its volunteers with its annual safety award. The ASTM F24 Committee on Amusement Rides and Devices is celebrating 45 years of dedication and leadership in the development of International Amusement Industry Safety Standards. This award recognizes not only the global impact of ASTM International, but also the thousands of members that make up the F24 committee.
Since 1978, F24 has developed world-class safety standards. Many of these have been adopted outside of the United States and are currently being harmonized with the European Norm EN13814 to provide consistent, and state-of-the-art global industry safety standards.
F24 boasts the second most well-attended technical meetings among ASTM's 148 committees. Over 1,200 F24 volunteers meet twice annually and attend more than 100 meetings per year, constantly maintaining and updating industry safety standards.
Past winners of the prestigious AIMS International Safety Award include:
2022 - CW Craven
2021 - Hugo Loyola
2020 - John Riggleman
2019 - Ronald E. Burback
2018 - Patrick Hoffman
2017 - Har Kupers
2016 - Harold Hudson
Early bird registration for the annual AIMS International Safety Seminar opens on Monday, September 11. The 2024 seminar will take place January 7-12 at the DoubleTree by Hilton in Orlando, Florida.
To learn more, visit aimsintl.org today.
###
About AIMS International
AIMS International is a non-profit 501(c)(6) trade association dedicated to improving amusement industry safety through leadership in education. AIMS International provides educational courses and certification programs for ride inspectors, operations, aquatics and maintenance personnel through its annual Safety Seminar and at other venues throughout the year.  AIMS also serves to inform its members on issues relating to the amusement industry and presents an Annual Safety Award recognizing a person or organization that has made a significant impact or contribution in improving safety in the amusement industry.
Additional details about AIMS International are available by visiting www.aimsintl.org.